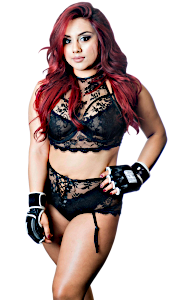 Garcia is a former LFC Champion who comes to us from Monterrey, Nuevo Leon, Mexico. This is where she compiled an impressive 13-2 record before joining the LFC. Her entry into the cage was as memorable as any the LFC has seen when she defeated Shay 'The Fox' Mazzato in a fight for the vacant title at LFC 23: Guilty Pleasures. Monica has a background in wrestling and is able to combine strength, agility, and endurance to get the edge. Incredibly enough, Garcia's energy is at the same level in the closing moments of a fight as it is in the open. Her stamina has intimidated opponents who are counting on her power game to exhaust itself as a match unfolds, much to their displeasure. While Monica was champion, she wore the belt proudly and exuding much confidence. Although some took offense to her brashness and dismissive treatment of fellow competitors, it was all part of the persona a title-holder must possess. "I feel like the LFC gives women the opportunity to feel beautiful and strong, while building character and confidence." If Monica can stay on point, she will definitely and defiantly make another epic run to the LFC Championship.
| | |
| --- | --- |
| Nickname | Flowerbomb |
| Fighting Style | Wrestler |
| Height | 5'2″ |
| Weight | 160 lbs |
| | |
| --- | --- |
| Record | 17-5 |
| Status | Active |
| Team | Black |
| Home Town | Monterrey, Mexico |
Share This Page With Your Fellow Fans!