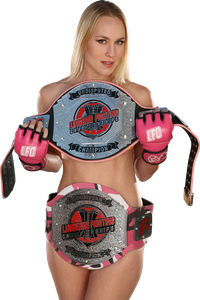 As a mainstay of the LFC, Hexx grew up fighting her 14 brothers in a polygamist sect outside of Salt Lake City, Utah. This is where the "face of the LFC" found her calling for battle. Leaving her roots behind, she went on a spiritual retreat to Israel, where she was introduced to Krav Maga. Shortly after, she began her career in executive protection. While on a mission to Uganda, she stumbled into MMA and compiled a 14-4 record fighting in the underground circuit. As the first ever European Champion, Jolene brings a full arsenal of fighting disciplines into the cage. She is highly regarded as the best trash-talker in the LFC. 'The Valkyrie' relishes in getting under an opponent's skin with quick verbal jabs that are delivered with perfect timing and a sadistic smile. She is a natural, destructive force, and is also well at home in front of the camera, consistently adding more credits to her film career.
| | |
| --- | --- |
| Nickname | The Valkyrie |
| Fighting Style | Krav Maga |
| Height | 5'8″ |
| Weight | 135 lbs |
| | |
| --- | --- |
| Record | 25-7-1 |
| Status | Active |
| Team | Pink |
| Home Town | Salt Lake City, UT |
Share This Page With Your Fellow Fans!
Bouts
| Result | Opponent | Event | Date | Method | Round | Time | |
| --- | --- | --- | --- | --- | --- | --- | --- |
| | | LFC 36: Booty Camp 4 | May 13, 2022 | Submission (Rear-Naked Choke) | 2 | 1:35 | |
| | | LFC 34: United We Stand | August 14, 2021 | Submission (Leg Injury) | 2 | 0:45 | |
| | | LFC 26: Booty Camp | April 04, 2019 | Submission (Triangle Choke) | 2 | 1:25 | |
| | | LFC 32: Black & Blue | August 12, 2021 | Disqualification | 2 | 3:00 | |
| | | LFC 31: Booty Camp 2 | March 23, 2021 | Submission (Inverted Triangle Choke) | 2 | 1:49 | |
| | | LFC 30: Born To Be Wild | August 11, 2020 | Submission (Triangle Choke) | 2 | 0:47 | |
| | | LFC 28: Sindependence Day | July 04, 2019 | Submission (Rear-Naked Choke) | 1 | 0:35 | |
| | | LFC 27: Sexy, Nerdy, Inked & Curvy | May 24, 2019 | Disqualification (Refusing to Release Submission) | 2 | 3:00 | |
| | | LFC 25: Showdown At Sam's Town | May 18, 2018 | Submission (Arm Bar) | 2 | 0:42 | |
| | | LFC 22: Costume Brawl | January 13, 2017 | Decision (Split) | 3 | 3:00 | |
| | | LFC 23: Guilty Pleasures | July 08, 2017 | Submission (Rear-Naked Choke) | 2 | 0:29 | |
| | | LFC 21: Naughty 'n Nice | August 12, 2016 | Draw | 3 | 3:00 | |
| | | LFC 20: A Midsummer Night's Dream | August 08, 2015 | TKO (Punches) | 1 | 2:10 | |