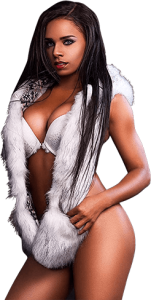 Roxy is a beautiful lingerie model from Chicago, Illinois, who says she learned how to fight on the streets and signed-up for martial arts to stay out of trouble. She had competed in MMA on the East Coast before joining the LFC and says people underestimate her at their own peril. With nerves of steel, Roxy never panics under pressure and displays a composure that is unsettling to her opponents. She bolsters her wrestling with a well-developed, lethal kicking game that can chop down even the most formidable of foes. An outstanding teammate, Roxy gamely won the LFC title for the Pink Team in a battle of wills at LFC25. That all-out-effort serves as a template for fighters looking to see what it takes to have their arms raised triumphantly. Roxy has an inspirational cage presence that younger athletes should pay attention to in order to forge their own success. Roxy flawlessly embodies what a champion is all about.
| | |
| --- | --- |
| Nickname | Roundhouse |
| Fighting Style | Wrestler |
| Height | 5'3″ |
| Weight | 125 lbs |
| | |
| --- | --- |
| Record | 10-3 |
| Status | Active |
| Team | Pink |
| Home Town | Chicago, IL |
Share This Page With Your Fellow Fans!