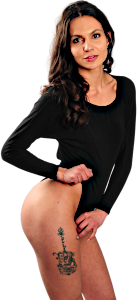 St. Pierre hails from Calgary, Alberta, a city known to the world as 'Cowtown' because of its rich Western Culture. This is where Danielle draws her nickname of 'Cow Belle'. She is a former gymnast who relishes in giving back to the sport by coaching young athletes. Danielle is very active outside her fighting life: doing yoga, running, and weight lifting. As a fitness-fanatic, she knows a thing or two about competition and calls the gym her second home. This beautiful fighter from Canada is a cousin to UFC legend Georges St. Pierre. As a member of the Black Team, Danielle is a quick study and is progressing well since her debut at LFC21. St. Pierre is no longer an MMA rookie and is readying herself for prominence in the cage. To some, she is flying under the radar, but to the most astute of fans, she is right on track. Expect to see her name announced on a fight card soon!
| | |
| --- | --- |
| Nickname | Cow Belle |
| Fighting Style | Jiu-Jitsu |
| Height | 5'6″ |
| Weight | 125 lbs |
| | |
| --- | --- |
| Record | 2-2 |
| Status | Active |
| Team | Black |
| Home Town | Calgary, Canada |
Share This Page With Your Fellow Fans!