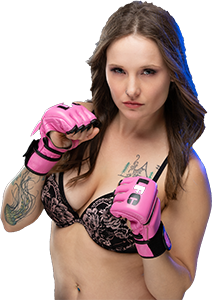 Serina is a native of Indianapolis, Indiana, but is proud to call Canada her new home. This expert snowboarder is a mixed martial artist who joined the LFC after watching LFC18: Lace vs Leather on television, finding herself fascinated by the uniqueness of the league. Her signature move is the Kimura, but there are some who question whether she has the killer instinct needed to excel in MMA. She exudes a playful and lighthearted demeanor in the cage, but hardcore fans of the sport view that as ploy used to undermine her opponents. Her dedication to the sport and her persistence to improve her skills are obvious. She has some high praises to say about the organization she works for, "The LFC is important because it represents the empowerment of our generation. We can prove how fierce women are while looking sexy at the same time. It's killing stereotypes and embracing freedom." Serina has a very likeable persona, and she is very easy on the eyes.
| | |
| --- | --- |
| Nickname | Honey Punch |
| Fighting Style | MMA |
| Height | 5'1″ |
| Weight | 115 lbs |
| | |
| --- | --- |
| Record | 2-2 |
| Status | Active |
| Team | NA |
| Home Town | Kelowna, Canada |
Share This Page With Your Fellow Fans!