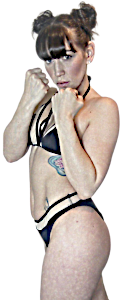 With city girl roots and a small town heart I'm known for being equally as strong & fierce as I am sweet & sassy. While working full time in the fetish & female fighting industry I've gained a hunger to climb to the top…kinda like I do with everything else in life…it's just in my nature to crave a challenge. Although I'm new to the fighting scene, don't mistake me as a rookie! I grew up with a gang of brothers and their friends & a military minded dad where I had to learn how to hold my ground early on in life in order to hang with the big guys. I've got what I would call a brawler's fighting style because I like to talk shit and get down & dirty but I'm a natural in wrestling, boxing & jiu-jitsu. I may be cute but my strength is unpredictable and my sweet disposition is deceiving so be sure to stay on your toes around me. With my heart of gold and never back down attitude I aim to always come out on top no matter what I take on! I think my big ol' booty, fun/spunky personality and strive to win can bring a lot to the LFC. I'm excited to get a taste of the competition and have a blast while I make my way into the fans' hearts. Everybody loves a sugarfix!
| | |
| --- | --- |
| Nickname | Sugar Fix |
| Fighting Style | Jiu-Jitsu |
| Height | 5'6″ |
| Weight | 140 lbs |
| | |
| --- | --- |
| Home Town | Reno, NV |
| Status | Prospect |
Share This Page With Your Fellow Fans!