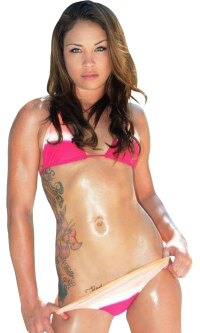 Coming to the LFC from the rugged mountains of Kalispell, Montana, Brooke 'The Guillotine' Gilley is a grappler with training in Brazilian Jiu-Jitsu and Russian Sambo. Brooke grew up as 'one of the guys', never really getting along with the girls; she was interested in motor sports, fast cars, and the outdoors. Brooke gladly stayed away from the 'Barbie dolls and bitching' other girls were into. Her love for MMA blossomed when she joined Zombie-Fist, an all-male fight team based in Wyoming. There, she trained with a group of guys that took her under their wings, refining her boxing skills, and coaching her in the art of hand-to-hand combat. Brooke's formidable upper body strength and reputation in the gym led to her becoming a force to be reckoned with, landing her the nickname 'The Guillotine'. Brooke has a fierce attitude to go with a relentless fighting style that keeps opponents off-balance and in constant peril. She looks forward to securing a spot and making a name for herself in the LFC. Brooke, a proud member of the Pink Team, is a serious threat against anyone in the league, eagerly willing to cancel out contenders and pretenders.
| | |
| --- | --- |
| Nickname | The Guillotine |
| Fighting Style | Brazilian Jiu-Jitsu |
| Height | 5'9″ |
| Weight | 145 lbs |
| | |
| --- | --- |
| Record | 1-1 |
| Status | Active |
| Team | Pink |
| Home Town | Gillette, WY |
Share This Page With Your Fellow Fans!